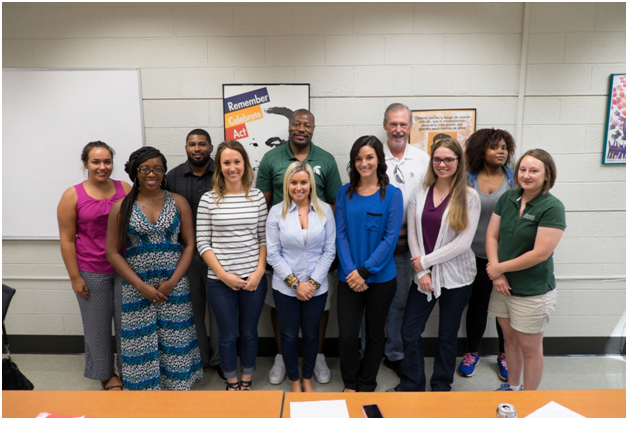 William S. Davidson II is University Distinguished Professor at Michigan State University. He is Editor Emeritus of the American Journal of Community Psychology and chair of the Ecological/Community Psychology Graduate Program. He has four decades of experience in research and program design related to youth development, utilization of scientific information, and violence against women. He has published several hundred articles and chapters and eight books.
Sean Hankins is the director/field instructor of the MSUAP. He is also the lead facilitator of a juvenile sex offender support and education group for the Ingham County Juvenile Family Court Division, He was the Director/Lead Facilitator for the children support and education group of the MSU Resilient Child Study.
Alex Watson is an Instructor for the MSU-Adolescent Program and is currently pursuing her MA in Program Evaluation at Michigan State University. She hopes to evaluate educational and human service programs as well as shape public policy to increase the opportunities afforded to at-risk youth and improve the outcomes for youth entering the juvenile justice system. Alex received her B.A. in Psychology and Criminal Justice from Michigan State University in 2014. Prior to graduation, she was a student advocate in the program as well as a Teaching Assistant. Along with being an instructor for the program, she also completes the intake assessment of the youth who are referred to the program, and is an Executive Director of the STRIVE Program.
Ashton Talkovic is an instructor for the MSU AP program. Prior to being an instructor she was a student advocate in the program and gained experience as a Teaching Assistant.  Currently she is a fourth year undergraduate student at Michigan State University where she is pursuing a Bachelor's of Science degree in Criminal Justice and Psychology. Ashton furthers her passion working with juvenile delinquents as an executive director for the STRIVE program which is a support and educational program for juveniles who have committed sexual offenses. She also has worked with Ingham County Court- Family Division serving as a court intern as well as being apart of the Juvenile Risk Assessment Team.
Nordia Campbell is an instructor for the MSUAP, and a third-year doctoral student in the Ecological-Community Psychology program at Michigan State University. She earned a M.A. in Ecological-Community Psychology at MSU in 2015. Ms. Campbell has worked with underprivileged youth since her undergraduate studies at Hofstra University on Long Island, NY. She furthered her passion for working with this population as a graduate student at MSU. Throughout her graduate studies, she has worked with undergraduate students in college access and preparatory programs as well as with programs within the juvenile justice system. Ms. Campbell studies juvenile risk assessment and court-run programs as well as risk and protective factors that facilitate resilience among underprivileged youth.
Casey Brunetti is a Teaching Assistant for ADP and a senior at Michigan State University, pursuing a Bachelor of Arts degree in Psychology.  She intends to earn her Master's Degree in Social Work after graduation and a year spent abroad in Dublin, Ireland.  Casey is also currently an advocate for ADP she works part time at an elementary school.
Emily Sheridan-Fulton is a teaching assistant for the MSU AP team, and a dedicated service worker in the field of social work. She is currently working on obtaining her Bachelor's degree in Social Work from Michigan State University and will graduate in the spring of 2016 then plans on attending graduate school to obtain her Master's degrees in Social Work and Public Health.  She was an advocate in the program in the Fall/Spring semesters of 2014-15, was part of the checking team, and has been a teaching assistant for three semesters thus far.  She has also worked at the St. Vincent's Children's Home as a youth advocate and was a student researcher in the Social Work Department of Continuing education.  Her long term goals include program development and direction in order to decrease hunger, homelessness, and poverty both nationally and internationally.
Jennifer Arkens is a teaching assistant for the Adolescent Diversion Project. She first gained experience with the project by being an advocate for a youth. She then continued on to become a teaching assistant. Jennifer will be completing her Bachelor of Arts in Criminal Justice degree, in May of 2016, at Michigan State University. After graduation she plans on joining the Department of Homeland Security
Mikala Cox is an undergraduate junior studying Psychology with a minor in Sociology at Michigan State University. She was a former MSUAP advocate, has completed one semester of assistant teaching, and she is also a Director for the STRIVE program working with juvenile sexual offenders. Mikala is employed at Community Mental Health working respite with at-risk and emotionally impaired youth in Clinton, Eaton, and Ingham County.
Olivia Ottenbacher is a third year undergraduate student at Michigan State University. She is pursuing a Bachelor of Science degree in Psychology. First becoming a student in MSUAP, she is now enjoying her role as teaching assistant. With an interest in youth across a variety of disciplines, Olivia has previously been apart of research on HIV/AIDs in adolescents and currently works at the Spartan Child Development Center. In addition, she recently began her work with the Research Consortium on Gender-Based Violence. In the future she plans on pursuing a graduate degree in the field of school psychology