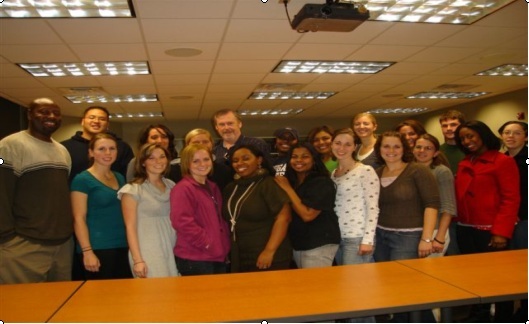 Adolescent Development Program Staff
In a time when some states are spending more money on correction systems than education, it is important to seek out was to keep young people out of the court system. Since 1976, Adolescent Development Program, part of the Psychology department, has trained and supervised nearly 4000 undergraduates who have in turn helped nearly 3,500 adolescents. After a two and a half year follow-up, only 30 percent of participating juvenile offenders returned to the court system compared to 65 percent of a randomly assigned control group. As reported in over 50 articles and presentations as well as in an extensive book, MSU's Adolescent Development Program has had a transformative impact on the lives of youth, families, communities, and MSU students.
Each year, 110 MSU undergraduates are involved in MSU's Adolescent Development Program. After 12 weeks of systematic training, students are paired one-on-one with an Ingham County youth and their family in an intense year-long program. Juveniles who have committed crimes are referred from the juvenile court and matched with an MSU student under supervision of faculty and graduate students.
By participating in the program, a young person gains someone who is an advocate of their positive strengths and teaches them methods of negotiating for their rights and unmet needs. "Through the mentoring process they learn to invest in themselves and make more responsible choices," said Sean Hankins, director/field instructor of the Adolescent Development Program. By focusing on the positive, youth learn they have something to gain or lose by their actions." It's powerful to see the transformation in a youth from positive intervention, said Hankins. "It clears a new path to personal success at a time when a young person is standing at a crossroads."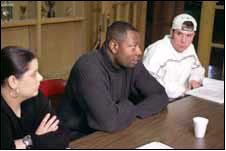 Sean Hankins teaches a class of MSU students enrolled in the Adolescent Development Program
Over an 18-week period, undergraduate students enrolled in Psychology 371 and 372 utilize techniques learned in training to conduct an individualized intervention with the youth and those in their social networks. The aim of this project is to divert adolescents in legal jeopardy from the juvenile system. Before students are assigned a youth, they receive intensive training in intervention theories and techniques of behavior modification and youth advocacy. These techniques and skills are associated with four major stages that each intervention moves through. These stages are: 1) primary and secondary assessment techniques i.e. administering an strength based assessment, 2) implementation of the specific intervention strategies, i.e. developing and action plan 3) monitoring and troubleshooting, and 4) termination/transitional strategies which are directed at shifting the major responsibilities for carrying out further positive changes to the youth and his/her family(self-advocacy). Other techniques used to foster trust and confidence with the youth 1) empathy training, 2) conflict resolution 3)crisis management 4) emotional expression (i.e. anger management, constructive verbal communication through feelings) 6) confidentiality, 7) positive reinforcement and 8) creative thinking. ADP also provides students with experiences and training that will help prepare them for graduate school.
During the First Semester, students are required to research, design and present a class project that focuses on providing information about a specific adolescent problem (i.e. teenage depression, alternative education programs, recreational activities, sexual assault, etc…). The class project consists of a power point presentation and a brochure that provides information on the topic. Students are required to demonstrate their knowledge through readings, thought papers, quizzes, role-play exercises, group discussions, and reflection.
MSU students also gain by participating in the class. In a two year follow-up study of the students themselves compared to a random control group of students, it was found that the course led to a greater likelihood of long term employment in psychology and a greater likelihood of entering a graduate program. Further, compared to controls, undergraduate students rated their education at Michigan State more positively. "It's powerful to see the transformation in a youth from positive intervention," said Hankins. "It clears a new path to personal success at a time when a young person is standing at a crossroads."
"Students often grow because their character is tested," said Sean Hankins, director/field instructor of ADP. "For example, a student may be paired with someone who requires a lot of patience. The student will learn the value of patience and making assessments without value judgment or victim blaming." In fact, a recent study done by Jenna Claes, an undergraduate assistant for ADP, found exactly these results when asking former advocates what they feel they learned from the program. "I learned how to be more patient because people do not always comply with your schedule when you want to get things done," said a participant in Claes' research. There are many other benefits as well, such as valuable experience that may help a student in applying for graduate school or a job in the field of psychology. Out of the 15 former advocates surveyed by Claes, eight of them are currently attending grad school just two years after being in ADP, and 7 said that ADP helped them get a job. In addition to these professional development benefits, there are also many who say the experience alone was worth their time in ADP.